Glitter Crowns
TINY CROWN
Groomsman Top Hats
big sis & lil sis crowns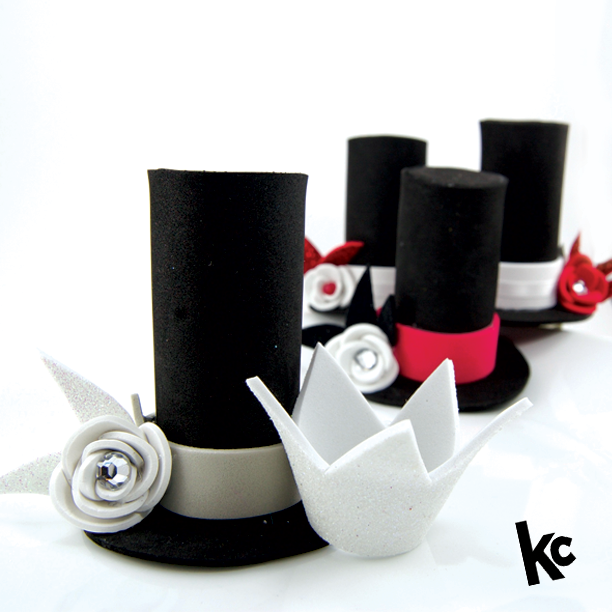 Wedding Top Hat & Crown
Groomsman Tiny Hats
Wedding Party Accessories
Tiny Bridal Crown
Flower Ring *color options*
Collar Corsages
Flower Ring *color options*
Mario and Princess Peach Tiny Hats
St. Paddy
St. Paddy's Top Hats
Easter Top Hat
Elsa Crown
Anne + Craig Bachelorette Top Hats
Pilgrim Hat
Antlers & Santa Hat
Santa Hat
Down the rabbit hole tiny hats
Tiny Nurse Hat
Tiny Nurse Hats
Nautical themed birthday crown
Neverland; Capt' Hook, Pixie, Lost Boys, Mermaid
Neverland Capt' Hook & Lost Boys hats
MS Fundraiser Walk
Ladies Top Hat *Color options*
Ladies Top Hat w ribbon *color options*
Ladies Top Hats *color options*
Starbucks Spirit Frap Hat
Independence Day Top Hats
Independence Day Top Hats
Nora's birthday fedora
Birthday Top Hat for Girls
Topsy Turvy Birthday Hats
Montana Grizzly Pride Ears
Halloween witch hat
Dirty 30 Classy B**** Party Hat
Top Hat with Mustache
Ladies top hats
Veiled Ladies Top Hat
Top Hat with Mustache
Topsy Turvy Top Hat
Brown Top Hat
Classic Top Hat
Antlers
Vikings Horns
Vikings Horns -Breast Cancer Awareness-
Rustic Wedding Guest Top Hats
Rustic Wedding Guest Top Hat
Bachelorette Tiny Hats
"B is for Bride" Bachelorette Top Hats
Independence Hair Bows
Rainbow Bows
Bachelorette Crown -Marine theme-
Bridal Crown
Bachelorette Top Hat -Marine Theme-
Veiled Bachelorette Top Hat -Marine Themed-
Topsy Turvy Birthday Guest Hat
Owl Twins Birthday Tiny Hats
"Party Animals" Mustache Party Favors
"Party Animals" Birthday Party Favors
Party Animal Birthday Hats
Party Animal Birthday Hats
Party Animal Birthday Hats
Party Animal Birthday Hats
Party Animal Birthday Hats
Bo's Cheeseburger Beret
"Punch" Puppet -Judy's Scary Little Christmas- ArtsWest 2014
Glitter Crowns
TINY CROWN
Groomsman Top Hats
big sis & lil sis crowns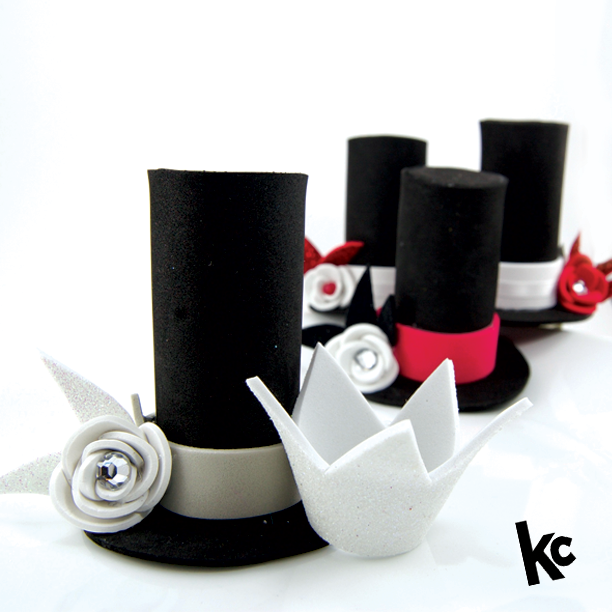 Wedding Top Hat & Crown
Groomsman Tiny Hats
Wedding Party Accessories
Tiny Bridal Crown
Modelled by the beautiful bride Laura, is a simple and snazzy crown for the bachelorette celebration. Includes a big fun ring and a veil. This particular hat was part of a 15 piece hat set for all her entourage!
Flower Ring *color options*
Collar Corsages
Flower Ring *color options*
Mario and Princess Peach Tiny Hats
St. Paddy
St. Paddy's Top Hats
Easter Top Hat
Elsa Crown
Anne + Craig Bachelorette Top Hats
Pilgrim Hat
Antlers & Santa Hat
Santa Hat
Down the rabbit hole tiny hats
Tiny Nurse Hat
Tiny Nurse Hats
Nautical themed birthday crown
Two tiered sparkly birthday boy crown in white, yellow, and blue.
Neverland; Capt' Hook, Pixie, Lost Boys, Mermaid
Neverland Capt' Hook & Lost Boys hats
MS Fundraiser Walk
Ladies Top Hat *Color options*
Ladies Top Hat w ribbon *color options*
Ladies Top Hats *color options*
Starbucks Spirit Frap Hat
Independence Day Top Hats
Independence Day Top Hats
Celebrate the day in style with your unique tiny hat. Men's to the right, women's to the left.
Nora's birthday fedora
Pin striped and laced up one side. Black and white with accents of tule and ribbon on a headband.
Birthday Top Hat for Girls
Topsy Turvy Birthday Hats
These fun hats were for a 25 Topsy Turvy circus & mardi gras inspired party. These were only 5 of the 15 unique hats, some of which were purposely upside down!
Montana Grizzly Pride Ears
Not so much a hat… but ears and the name go a long way! My model Bernie here looks like they were meant for her.
Halloween witch hat
Bernie here styling a green with fun black feather and purple tule accents,
Dirty 30 Classy B**** Party Hat
Make any girl feel even more special with this sparkly top hat with accents of a rose flower and a tule vail.
Top Hat with Mustache
Make each party a hit with these top hats with attached mustache. You are a walking photo booth! Colors and styles vary depending on your parties theme!
Ladies top hats
With a little lace up corset on the back of each top hat, adds to the fun of these pretty hat. Can include accessories as ribbons, flowers, vales, or mustaches. Great for bachelorette or bridal showers!
Veiled Ladies Top Hat
Classy B**** Party hats for a Dirty 30 party. This cute top hat in corseted up the back, with black ribbon accessories and a vail. The trifecta of fun!
Top Hat with Mustache
Orange top hat with Purple accents with attached mustache.
Topsy Turvy Top Hat
Hat with faux feathers and a black mustache. Almost like its made for a circus party! Maximum fun and silly times with this hat!
Brown Top Hat
Top hat with red and white accents with a monocle! A great hat for a fun and silly night out!
Classic Top Hat
Class up your party with these black and white top hats. Attach with a barrette or headband. Accessories can include your choice rose flower and or monocle or mustache.
Antlers
Vikings Horns
Show off your pride with your horns! Attached yellow braids was a big hit.
Vikings Horns -Breast Cancer Awareness-
Celebrate the big game with this fun set of horns! Sparkly accents add to the girly factor while still showing your pride for the team! Go Vikings!
Rustic Wedding Guest Top Hats
Rustic Wedding Guest Top Hat
Bachelorette Tiny Hats
Set yourselves apart when attending this bridal celebration! This particular occasion was a themed "Barbie Dream Cabin" with tiny cabin hats with matching patterned veils. Each attendant also received a set of lips and mustaches with matching big ring!
"B is for Bride" Bachelorette Top Hats
Independence Hair Bows
Rainbow Bows
Bachelorette Crown -Marine theme-
Bridal Crown
Bachelorette Top Hat -Marine Theme-
Veiled Bachelorette Top Hat -Marine Themed-
Topsy Turvy Birthday Guest Hat
Owl Twins Birthday Tiny Hats
"Party Animals" Mustache Party Favors
"Party Animals" Birthday Party Favors
Party Animal Birthday Hats
Party Animal Birthday Hats
Party Animal Birthday Hats
Party Animal Birthday Hats
Party Animal Birthday Hats
Bo's Cheeseburger Beret
"Punch" Puppet -Judy's Scary Little Christmas- ArtsWest 2014
1
2
3
4
5
6
7
8
9
10
11
12
13
14
15
16
17
18
19
20
21
22
23
24
25
26
27
28
29
30
31
32
33
34
35
36
37
38
39
40
41
42
43
44
45
46
47
48
49
50
51
52
53
54
55
56
57
58
59
60
61
62
63
64
65
66
67
68
69
70
71
72
·
·
·
·
·
·
·
·
·
·
·
·
·
·
·
·
·
·
·
·
·
·
·
·
·
·
·
·
·
·
·
·
·
·
·
·
·
·
·
·
·
·
·
·
·
·
·
·
·
·
·
·
·
·
·
·
·
·
·
·
·
·
·
·
·
·
·
·
·
·
·
·